MG TC Handbrake Oiler
This drawing shows the components of the assembly factory-fitted on all TCs to allow oil [grease?] to be injected into the handbrake cables for lubrication. I made the drawing by measuring original parts, and I believe that the dimensions are correct, but make no guarantee. The drawing is intended to help you to restore the oiler assemblies on your TC if some components are missing. Please note that many TC owners would suggest the use of oil here, rather than grease, as grease may tend to clog the cables.
Below the drawing are photos of the oiler assembly, and information on the location of the bracket on the body tub.
Michael Card TC/8233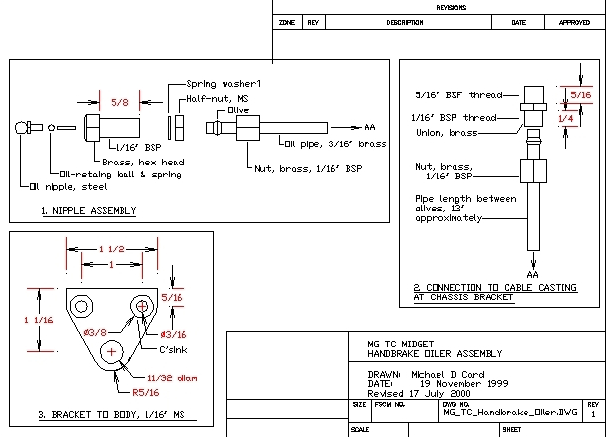 ---
Jack Stehr TC/7941 provided two photos to show the assembled oiler:-
| | | |
| --- | --- | --- |
| | | This is the typical profile of the pipework. |
| | | And this shows the oiler fitted to the chassis of TC/7941. |
---
Viv James and Jack Stehr took photos and made measurements to show the correct location of the bracket [item 3 in the drawing] on the body. Carl Fritz measured the bracket location on his car. Their information follows. Refer also to Mike Sherrell, "TCs Forever", page 206.
1. Origin of the data:-
Source

TC chassis number
Comments
Viv James

TC/4427

Viv notes, "I dug out two original but battered body side panels from my loft [one left and one right side]. Both of these panels had 2 original-looking holes exactly where Mike Sherrell shows the plates to be mounted."

Jack Stehr

TC/7941

Jack writes on the location of the brackets, "I don't think that the factory was very precise in their location as the two sides differ on my car by at least a quarter of an inch. The center of the screw holes are about 5/16" above the bottom of the panels. Both plates were attached to the tub with the ubiquitous #10 single slot flat-head screw used throughout the assembly of the tub."

Carl Fritz
TC/6756
Carl advises that he is sure that the brackets on his car "have never been disturbed or relocated since September of 1953, when i bought Betsy." Carl found that they were located by countersunk-head wood screws.

He says that the rear edge of the bracket on TC/6756 is approx. 1 inch forward of the rearmost edge of the under door panel. Carl also feels that there would have been variations in location from car to car.
2. Photos:-
Viv James prepared this photo and the one that follows. They are of original TC body side panels, which Viv had stored for many years.The location of the oiler mounting bracket in relation to the running-board bracket hole is shown.

Left hand side.

Right hand side
Jack Stehr's TC body tub, before dismantling for restoration. Jack has marked the photo with dimensions, using the lower rear corner of the tub as reference.
END