TC Console
How to make a nice console onto the propshaft tunnel . . .
by Jim Shade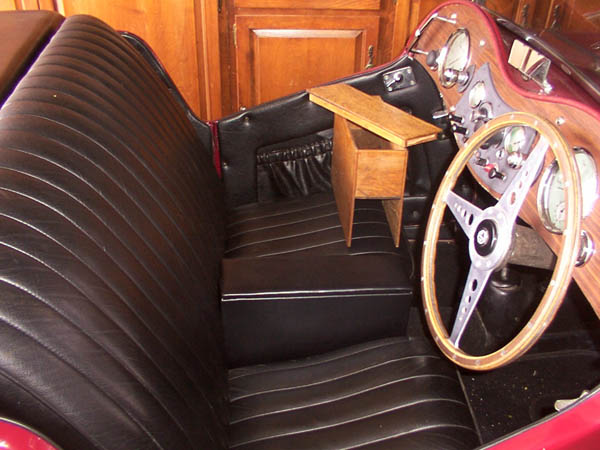 | | | |
| --- | --- | --- |
| click into the image to enlarge | | |
MATERIAL LIST and INSTRUCTIONS
for construction of the T- A B C CONSOLE
The box can be built from a single piece of 1/4 inch plywood 9" wide and 48" long. (walnut, birch etc, unless you are going to paint or upholster it).

Sides (2) 9" x 14"
Lid 4 1/2" x 4 3/8 " x 14"
Bottom 4" x 4 1/8" x 14"
Back 4 1/8" x 4 1/2"
Front 4" x 4 1/2"

grain runs lengthwise
"
"
grain runs the width
"
Frame = 36" of 1/2" x 3/4" strip Bottom supports = 56" of 3/8" quarter round Front and Back reinforcements = 18" of 1/2" quarter round
The above measurements will vary with the thickness of the tunnel carpeting. The measurements are critical if the console is to fit snugly over the tunnel. To obtain the correct dimensions, insert the 9" x 14" side panels between the tunnel and the seats, being sure to insert them absolutely vertically, then measure the distance between the panels at the front and at the rear (my tunnel has a 1/8" taper in the 14" span). This will determine the widths of the Lid, Bottom, Front and Back pieces.
Not shown on the plan are the 3/8" quarter rounds that should be cut and glued to the side panels to support the floor (top and bottom). Also not shown are the 1/2" quarter rounds that should be cut and glued where the front and back pieces meet the sides.
I didn't use any hardware, just glue.
It is possible to fabricate a cup holder by routering and cutting the Frame and inserting a 13 " long 3 1/2" wide piece of 1/4 inch plywood against the bottom of the Lid. Cut a 3" diameter hole as near as possible to one end to accommodate a can, cup or glass. This piece can be slid out to expose the round hole and slid back out of sight when not in use.
I found that by lifting the entire console, one can hide one's wallet, watch, keys, etc. between the bottom of the console and the top of the tunnel. (It might be well to extend the Front and Back pieces slightly below the Bottom piece so that this space would be completely concealed.
Jim Shade 2110 E. Mesita Ave. West Covina CA 91791
(626) 332-2938
FDShade@aol.com