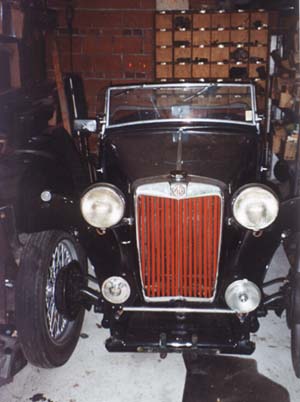 TC-6073, dark green with black interior, car is being built as a race/road car from a collection of spare/surplus parts. It will have a TF XPEG plus specification engine, full floating pistons, light flywheel, Lucas Laystall head, extractor exhaust, 16" wheels with Dunlop race tires, Alfin type drums etc. The car left the factory on July 16, 1948. I am trying to get it complete for end May vintage races at Mosport.
TC-5573, black with red leather upholstery, restored to road car level, non-original TD block engine bored to 72 mm or XPEG TF specification, with painted wire wheels and I am about to install Alfin type brake drums. It left the factory on 26 May, 1948. I have given this car to my younger daughter Peggy.
I have a part restored 1949 TC that I have owned since 1967, TC-8654 EXU
"Anybody needs more information, I will try to help them!"
Bob